Commercial Irrigation Conservation
Commercial Irrigation Conservation Applications
What is the program?
Elk River Municipal Utilities is offering a new program for our commercial irrigation customers that establishes incentives for implementing water efficiency measures. Commercial irrigation customers will be eligible for an exemption from 3rd step water rates based on a points system. Customers must achieve ten (10) Water Conservation points in the first year and five (5) every year thereafter. Instead of being billed at the 3rd step water rate, all water will be billed at the 2nd step rate once the required points are achieved.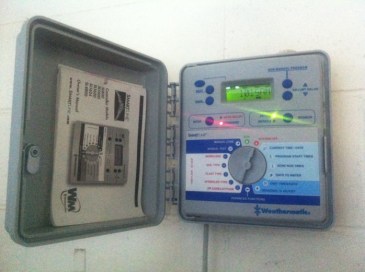 Who qualifies for this program?
Existing commercial irrigation customers that have zero water consumption in the months of November-March of the previous year qualify to be a part of this program. New customers that are installing a new irrigation system can also qualify.
Terms and Conditions
1. Customer must participate in the program for at least one year.
2. The 3rd Step exemption applies only to the property served by the water meter at the installation address on the Water Conservation Rebate Application.
3. Inspection of the existing equipment and new equipment will be conducted annually by ERMU staff.
4. Each individual property must submit a completed Water Conservation Rebate Application annually with copies of invoices/receipts.
5. Customers will be required to implement water conservation measures that will earn Water Conservation Points (WCPs) and may also receive financial incentives (rebates) for the installation of equipment or services.
Water Conservation Points
One Point
1 pt Install 3 Eco-Irrigation Heads (buy 2, get 1 free). ERMU will reimburse through a rebate for one head once a receipt is provided.
Two Points
2 pts Add a layer (2" to 3") of mulch to shrub beds
2 pts Install rain barrels and/or retention ponds
Three Points
3 pts Annual irrigation inspection including ($100 water rebate/year):
1. Program controller for proper moisture level
2. Adjust all heads to avoid watering hard surfaces
3. Check for leaks
4. Check rain gauge
3 pts Participate in Project Conserve
Five Points
5 pts Install SMART Controller on irrigation systems ($500 maximum rebate per
customer/year)
Eight Points
8 pts Install Rain Garden/Xeriscape/Eco-Grass/Native Grass/2" black dirt (maximum $500
rebate per customer/year)
How do I sign up?
1. You must have zero water consumption during the winter (November-March).
2. The Commercial Irrigation Water Conservation Application must be completed.
3. Copies of all invoices or receipts for service or equipment purchased and installed must be
presented.
4. Application and copies of receipts must be returned to:

Elk River Municipal Utilities
C/O Water Conservation Rebate
P.O. Box 430
Elk River, MN 55330

5. Call 763-441-2020 to schedule a meeting with ERMU staff for inspection of equipment prior
to enrolling.